Home
>
Oahu Helicopter Tours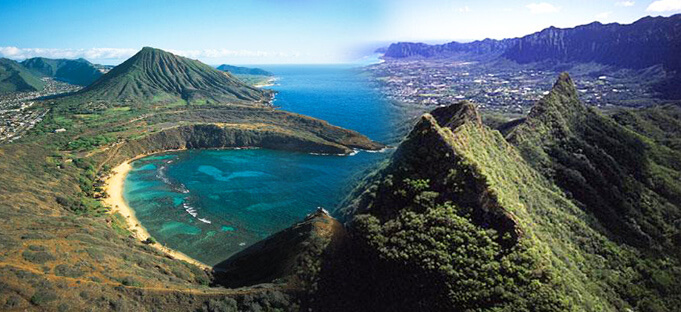 Makani Kai Helicopters - Pali Makani Flight
The Pali Makani Flight is the most popular Oahu helicopter tour.  It offers an amazing combination of wilderness and history. You will travel along the south coast towards Waikiki and Diamond Head Crater. The helicopter will circle the popular snorkeling spot Hanauma Bay, then continue with miles of white sandy beaches along the east coast.  
Enjoy a spectacular view of the Koolau mountain chain, and the historically important Nuuanu Pali Pass.
Finally, your flight takes you over tropical valleys back to the starting point of your trip and allows you to see Pearl Harbor and the Arizona Memorial before landing.
Where and When:Morning: Departure between 9:00 am & 11:00 am
Mid-day: Departure between 12:00 pm & 2:00 pm
Afternoon: Departure after 2:00 pm
Complimentary roundtrip transportation from Waikiki area hotels is available. Please select the transportation option at time of booking to request it. The exact departure time for your preferred time frame will be specified on your voucher.
If you are driving to the airport yourself, check in 30 minutes prior to your departure time at Honolulu International Airport, 130 Iolana Place, Honolulu, HI 96819 View Map
Requirements:
YOU MUST BRING YOUR PICTURE I.D. FOR SECURITY PURPOSES.
Restrictions:Passengers weighing over 250 pounds (113 kg) may be charged an additional fee equal to one half the tour cost. Passengers weighing over 300 lbs (136 kg) may be charged for an additional seat.
First Class seating is only sold in pairs (2 seats must be purchased). An individual First Class passenger's weight must not exceed 180 lbs (81 kg). The combined weight of two First Class passengers must not exceed 345 lbs (156 kg).
Children under the age of 2 years fly free and must sit on adult's lap.

Operation Days:
Daily
Duration:
30 minutes