Home
>
Oahu Luaus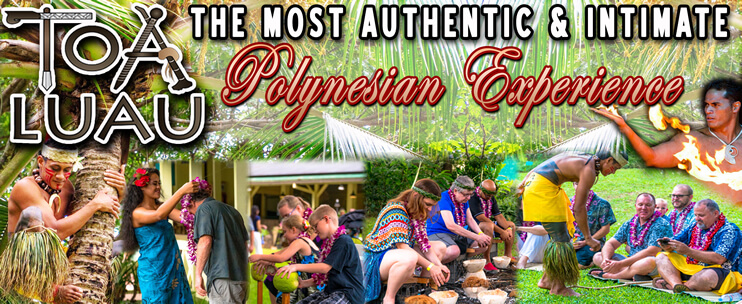 Toa Luau - Waimea Valley
Experience a traditional Hawaiian luau held in a tropical botanical garden setting. Toa Luau takes place on Oahus north shore in Waimea Valley. No matter if youre staying at the Turtle Bay Resort on the north shore, in Waikiki or elsewhere on Oahu, Toa Luau is well worth a visit! The luau includes everything what makes a Hawaiian luau special cultural presentations, a delicious luau buffet and a Polynesian show with music and dances from Hawaii and greater Polynesia.
All Toa Luau guests also receive same-day admission to the botanical garden, so if you would like to enjoy a nature stroll through this tropical paradise, plan to arrive around noon to make use of your ticket. The botanical garden is also home to Waimea Falls, so you can enjoy a refreshing swim in a natural waterfall pond if you wish (weather permitting).
Toa Luau Highlights: 
Held at the Waimea Valley botanical garden on Oahu's North Shore

Explore the garden prior to the luau, visit historical sites and swim at Waimea Falls (botanical garden visit is optional)

Toa Luau presents cultural demonstrations and island arts & crafts

Enjoy a mouthwatering luau buffet dinner

Watch the exciting Toa Luau show after dinner


Toa Luau Buffet Menu: 
Kalua Pork - Lomi Tomato, Alaea Salt and Chili Pepper Water

Grilled Shoyu BBQ Chicken - Shoyu, Green Onion, Sesame Seed, Chicken Thighs

Pupukea Green Salad - Mixed Greens, Cherry Tomatoes, Cucumber, Candied Mac Nuts & Papaya Seed Dressing

Island Mac Salad - Celery, Onion, Carrots, Deviled Egg Aioli & Smoked Chili Flake

White Rice with Furikake

Fresh Fruit

White Cake with Coconut Frosting

House-Made Haupia

Ice Tea & Spa Water
**A meal of mixed vegetables can be created for vegetarians. Guests with gluten requirements can eat most things on the buffet except the cake, macaroni salad and bread rolls.
Toa Luau packages:
***Drink tickets are for Adult tickets only.  Free water and ice-tea is available for all guests including children.
Seating is usually at round tables that seat 10 guests. Tables are pre-assigned and you will receive your table number at check in.
Where and When:Check-in for the luau begins at 4:50 pm. Luau starts at 5:00 pm and ends at approximately 8:00 pm.

Driving Directions:
Toa Luau is located at Waimea Valley, 59-864 Kamehameha Highway, Haleiwa, HI 96712 (located across from Waimea Bay) View Map
Parking is free.
If you decide to hike up to Waimea Falls before the luau starts, please give yourself at least 3 hours before luau check-in to hike and swim.
Same-day admission to the Waimea Valley botanical garden is included. Waimea Valley hours are 9:00 am to 4:00 pm. Waimea Botanical Garden and Falls are closed Mondays except for summer months June to August. The Monday luau takes place even if Waimea Valley is closed. Gates will open 30 minutes prior to check-in time on Mondays for luau guests only.
Requirements:
Restrictions:
There are no specific restrictions for this activity.
Operation Days:
Monday, Tuesday, Wednesday & Friday
Duration:
3.5 hours
Open Mondays, Tuesdays, Wednesdays & Fridays