Home
>
Oahu Combos and Special Savings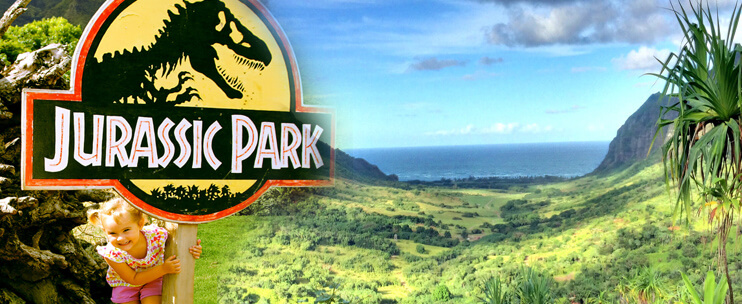 Kualoa Ranch Movie Sites & Ranch Tour
Kualoa Ranch on Oahu's east shore is a popular visitor attraction. The working cattle ranch is located in one of the most beautiful spots of Oahu at the foothills of the lush Ko'olau Mountains with views of the ocean. Many Hollywood movies and TV shows have been filmed here, including Jurassic Park, 50 First Dates, Along Came Polly, Godzilla and LOST. The ranch offers a fun guided movie tour that takes you to some of these filming locations. Along the way you'll travel in a vintage school bus and enjoy plenty of great photo opportunities.

Tour Highlights:
See filming locations of popular Hollywood movies and TV shows
Filming sites you may see: Godzilla, Windtalkers, Jurassic Park, 50 First Dates, Battleship, Hawaii Five-O and LOST
Great photo opportunities of beautiful Ka'a'awa Valley
Where and When:Tour times:
8:20 am, 8:40 am, 9:00 am, 9:20 am, 9:40 am, 10:00 am, 10:20 am, 10:40 am, 11:00 am, 11:20 am, 12:40 pm, 1:00 pm, 1:20 pm, 1:40 pm, 2:00 pm, 2:20 pm, 2:40 pm, 3:20 pm & 3:40 pm

Transportation

If you select transportation, you will be given one of the below pick-ups that are closest to you:

Pick-up at the Aston Waikiki Beach Hotel (outside the entrance on Paoakalani St) at 7:15 am.
Pick-up at the Sheraton Waikiki Hotel (at Aloha Landing bus depot) at 7:30 am.
Pick-up at the Modern Honolulu (outside front entrance on Hobrone Lane) at 7:45 am.

Please arrive at your pick-up location 15 minutes early for these departure times.

Return transportation will be leaving Kualoa Ranch at 1:00 pm or 3:30 pm.

Drive Out

Kualoa Ranch is only 45 minutes from Waikiki. Take the H-1 Freeway west to the Likelike Highway, Route #63. Proceed up the Likelike Highway and through the Wilson Tunnel. Descend towards Kaneohe town and exit onto Kahekili Highway, Route #83, heading north. Continue along Kahekili Highway - note that the road becomes Kamehameha Highway as you pass the historic "Hygienic Store" in the village of Kahalu'u. In about 10 minutes you will see signs indicating you are approaching the Kualoa Ranch entrance which will be on your left as you round the curve past Mokoli'i Island (Chinaman's Hat).
View Map
Requirements:
Restrictions:All guests must attend a briefing and sign a liability waiver before tour begins.
Children under 18 must be accompanied by an adult at check in to sign the liability waiver.
Children under 13 must be accompanied by an adult on all tours.

Please contact us if anyone in your party has special needs.
Operation Days:Daily
Closed on 12/25 and 1/1
Duration:
1.5 hours
ALL FEES INCLUDED

Roundtrip transportation from Waikiki is only available for morning (AM) tours.

Operates daily.
Closed 1/1 & 12/25.