Home
>
Oahu Holiday Cruises and Special Holiday Events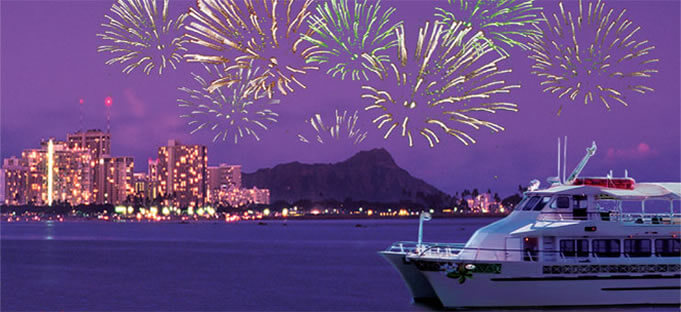 New Year's Eve Cocktail & Dance
Enjoy the best ocean view of fireworks, glass of champagne, live Hawaiian music and DJ as you welcome the New Year on the Starlet.
Where and When:Cruise time: 10:30 pm - 12:15 am
Check in at 10:00 pm at the Ala Wai Boat Harbor (located just west of the Prince Waikiki hotel). View Map
If you're standing at the harbor side of the Prince Waikiki Hotel and looking at the ocean, the Dolphin Star will be to your right side.

Parking is limited, please arrive early. Parking is available at nearby parking garages and metered parking at the Harbor. Note: Parking facilities are not owned and operated by the Dolphin Star and subject to change without notice.
Nearby Parking facilities include:


Marina Parking Garage
Ala Wai Boat Harbor Diamond Head Lot
Ala Moana Blvd. Garage
Requirements:
Restrictions:Must be 21 years or older.
This vessel is not wheelchair accessible. There is no storage available at the docks for wheelchairs.
Operation Days:
New Year's Eve (December 31)
Duration:
1 hour and 45 minutes
ALL FEES INCLUDED

Takes place on New Year's Eve (December 31, 2021)